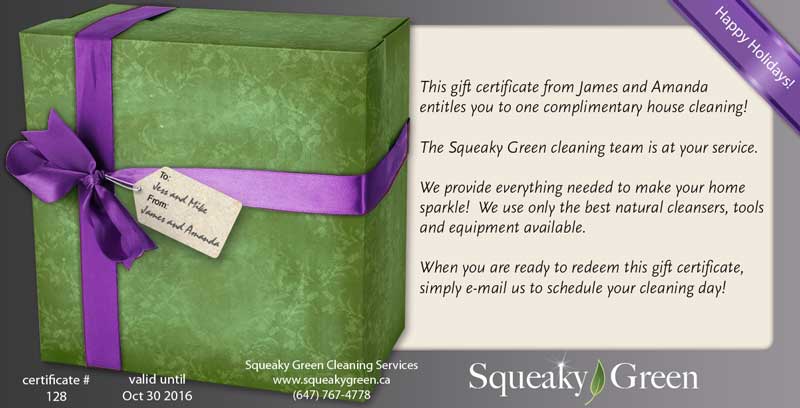 Professional cleaning is a gift of relaxation, comfort & luxury.
Gift giving can be complicated. It's not easy to know what others truly need and want. Plus you don't want to clutter the homes of those you care about with a gift you're not sure if they will like, because they may feel they need to keep it to spare your feelings. That's why professional cleaning makes such a perfect gift! Everyone needs and wants a nice clean space to come home to.
Professional cleaning is the perfect gift for every occasion.
Give the gift of a nice clean home, whether it's for a birthday, anniversary, Valentine's day, a mid-winter holiday, pre-party prep, or post-party cleanup.
A cleaning gift certificate makes a perfect baby shower gift for a soon-to-be sleep deprived new mom. Mom's love that our green cleaning techniques are safe and effective, providing anti-bacterial, anti-fungal and anti-viral cleanliness without the use of any poisonous chemicals.
The Squeaky Green cleaning team is at your service!
Save those you care about from the arduous task of scrubbing, dusting, vacuuming & mopping and leave it up to a Squeaky Green expert cleaning team. Order a Squeaky Green Gift Certificate today!
[contact-form-7 id="230" title="Gift Certificate Form"]